Intensity from page to stage
'As I Lay Dying,' rich with inner voices, an unblinking look at the human animal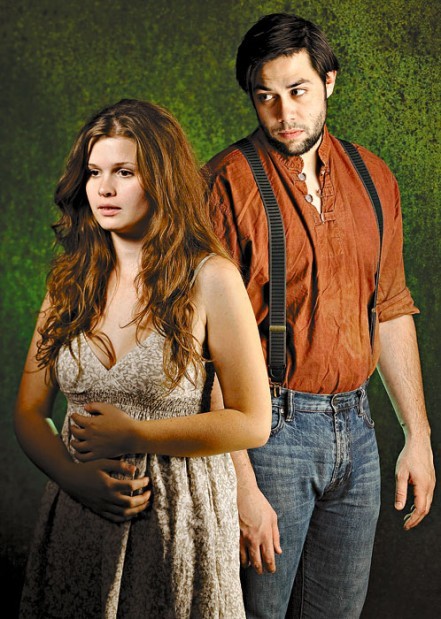 The name strikes fear in some.
Inspiration in others.
Count The Rogue Theatre among the latter group.
Friday, the company opens Faulkner's "As I Lay Dying," a novel steeped in Mississippi mud, dysfunctional characters and words so lush and writing so magical that it, along with his other works, won Faulkner a Nobel Prize for Literature in 1949.
"One of the things I really really like about this novel is that Faulkner looks very unflinchingly at us – or makes us look at ourselves unflinchingly," said Joseph McGrath, co-founder of Rogue and the director of this production.
"We may have all sorts of higher thoughts, but we are physical beings, and we are never really allowed to forget that. It's an unflinching look at what it is to be human not just in an emotional, but physical sense."
Faulkner wrote "As I Lay Dying" in 1930. Since then it has been consistently cited as one of the great American novels of the 20th century.
And the play, adapted by Annette Martin, doesn't fool around with the master's text.
"We aren't doing the entire novel," said McGrath.
"The adaptation cuts a lot out. But there isn't a word that's not Faulkner's. We've pulled everything from the book."
"As I Lay Dying" chronicles the journey of the dirt-poor Bundren family members as they attempt to bring the wife and mother, Addie, to her requested burial site.
It is character-rich, and each of them delivers monologues, revealing inner thoughts, turmoils and troubles.
"They are all narrators, but not all the narrators are reliable," said McGrath.
"So what you're doing is piecing together what is happening and what is true and reliable. The effect is one of isolation, where every person is in his own world."
McGrath is compelled by the family in this story, and the nature of family that Faulkner addresses in "As I Lay Dying."
"This family is so inept without its mother," he said.
"We join them as they are in the death watch, and already the family is beginning to disintegrate. Their journey, without that figure of Addie that would help them make decisions along their way, is pretty inept and comic. I hope to bring out the comedy. In a way, it's deeply disturbing and very close to farce."
And as for those who fear Faulkner, this may be your chance to embrace the author.
Of all of his works, this is the "shallow end," said McGrath.
"This is the easy way to get into Faulkner."
• Presented by: The Rogue Theatre.
• Adapted by: Annette Martin from the novel by William Faulkner.
• When: Previews at 7:30 p.m. today and opens at 7:30 p.m. Friday. Regular performances are 7:30 p.m. Thursdays through Saturdays and 2 p.m. Sundays through Nov. 20.
• Where: 300 E. University Blvd. in the Historic Y.
• Addie Bundren – The matriarch of the family, she is dying as the story opens.
• Anse – Addie's husband.
• Cash – The eldest son, a carpenter.
• Darl – The second Bundren child.
• Jewel – The third Bundren child, half-brother to the others (his father was Brother Whitfield, with whom his mother had an affair).
• Dewey Dell – Anse and Addie's only daughter; she is 17, unmarried and pregnant.
• Vardaman – The youngest of the Bundren children.
• Vernon Tull – A farmer and Bundren family friend.
• Cora Tull – Vernon's wife. A very religious woman.
• Doc Peabody – The Bundrens' doctor.
• Lafe – A farmer and the father of Dewey Dell's unborn child.
• Brother Whitfield – An evangelical minister.
• Samson – A farmer who opens his home to the Bundren family on the first night of their journey to Jefferson.
• Rachel – Samson's wife.
Addie Bundren is dying, watching as her son Cash builds her coffin. She has one wish: to be buried in a town 40 miles away.
It's a difficult request to fulfill, but the family tries. Addie's body in hand, they take nine days and deal with flood, fire and buzzards in their quest to bring Addie to her final resting place in her hometown of Jefferson, Miss.
While committed to granting their mother's desire, the characters, through a series of monologues, reveal some desires of their own that they think can be fulfilled in Jefferson.
The father, Anse, longs for a new set of teeth. Daughter Dewey longs to rid herself of the child she is carrying. And Cash longs for a gramophone.
The story unfolds in a series of monologues told by more than a dozen characters.
ANOTHER ADAPTATION OF '"AS I Lay Dying" was written by Robert Flynn. called "Journey to Jefferson" and was first directed by PAUL BAKER at the Dallas Theater Center.  Robert Flynn's adaptation was later widely produced and won international awards.